Back to courses
Permit to Work Systems - 2021 Specification
Course Price
£590 + VAT (plus reasonable tutor expenses) for an in house course of up to 12 people. Currently all of our courses are being delivered via Zoom online, face to face with experienced expert tutor, due to the Covid-19 Pandemic.
However "in house" face to face courses can be arranged subject to Covid-19 controls being applied.
If you're an individual anywhere in the world and requiring PTW training, I can also offer this course on a one-to-one basis via Zoom and include all course documentation electronically for £250.00 per person. All you require is enthusiasm and a good internet connection for a great individual learning experience.
Background
Permit to work systems are used as a control measure for high risk work activates when simple human error could lead to death, serious or disabling injuries. For example failing to isolate machinery before removing guards. In simple terms, it's a formal process whereby one person, called a Permit Issuer (usually a Manager) issues a Permit to Work (PTW) to a person called a Permit Receiver (Supervisor/Worker) after both parties have checked to ensure the control measures identified by risk assessment are in place and functioning. The Issuer would also supervise the ongoing work to ensure that the permit conditions (control measures) are being followed.
It's a very simple control measure, that if operated correctly will ensure the safety of anyone who could be harmed by a high risk work activity. It is, however, what we call and administrative control measure, it relies on people to operate what is usually a paper system, comprising of checklists and signatures. So the permit to work system itself is prone to human error.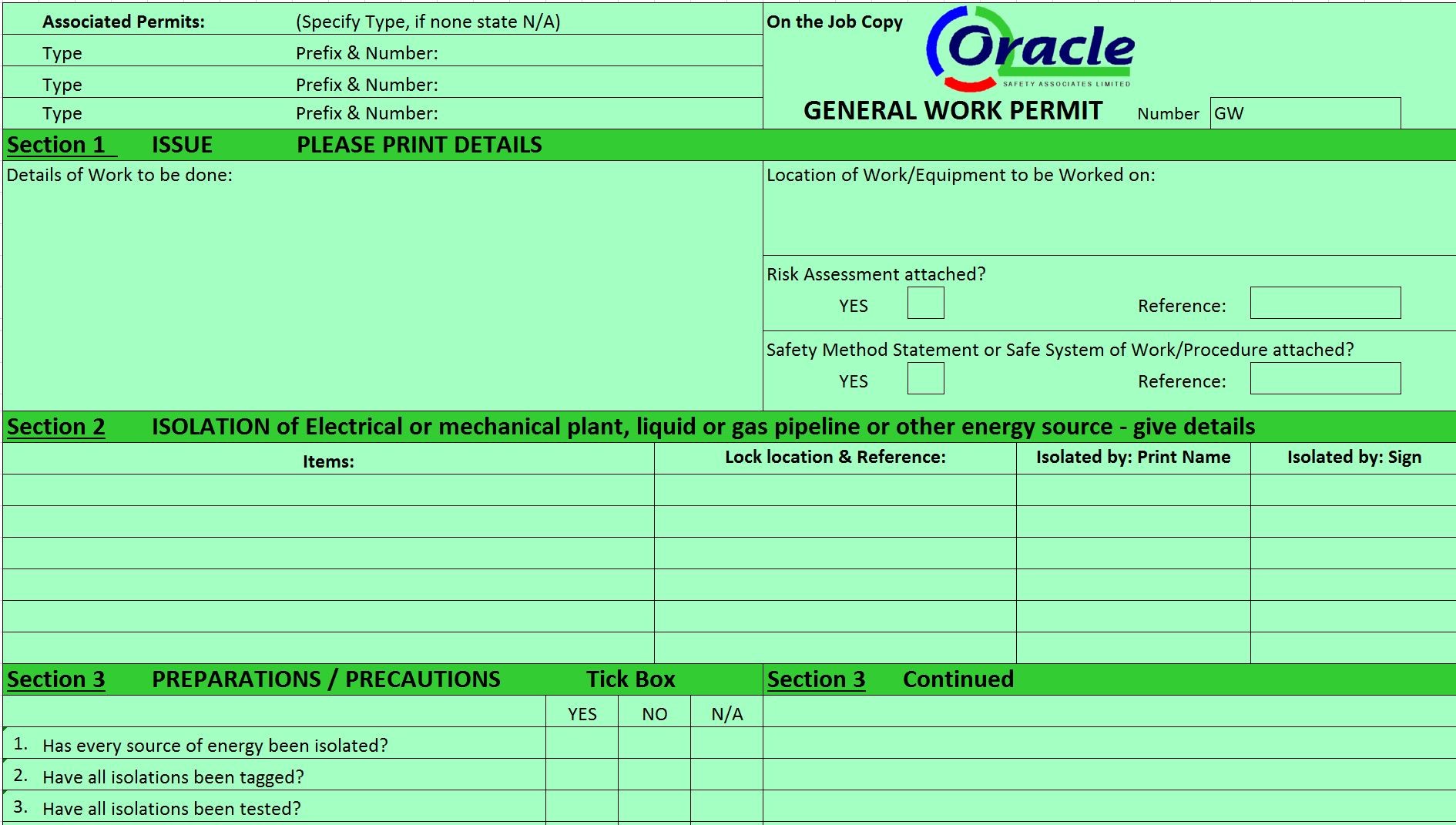 Persons who issue permits to work (and sometimes those that receive them) need to be trained. Without training people will not understand the permit system so it's unlikely to be effective as it may just get treated as 'tick box' exercise, and as they are used to control high risk activities the consequences of not adhering to the permit conditions can be devastating. We do not reccomend using permit to work (PTW) systems when simpler reasonably practicable control measures are available.
This particular course covers the general permit to work, some countries call it a 'cold work permit' which can be used for a range of activities that do not require a specific permit to work, the graphic below illustrates the different types of permit to work in use throughout the world. The general permit to work, differs from the others as they all cover specific hazardous activities. The general is the typical permit to work used in most workplaces. and sometimes covers the hazards of some more specific work activities.
This course takes into account that companies and individuals must learn from the mistakes of the past, which is why we use recent and historic accidents as case studies.
We analyze the causal factors of Deepwater Horizon oilrig disaster in Gulf of Mexico on the 20 April 2010, which resulted in the death of 11 workers.
In addition we analyze at The Piper Alpha accident oilrig disaster, which occurred on the 6th July 1988 off the coast of Aberdeen resulting in the deaths of 167 workers. The Piper Alpha accident outlines the serious consequences of permit to work system failures and is essential information for Permit Issuers and Receivers and all those that work within a permit to work scheme.
It is absolutely essential that those that design, operate or work within the Permit to Work system understand the limitations of the system and the common reasons why permit to work systems fail. We explore the following reasons, and more:
How an inadequately designed PTW system can cause accidents, we will teach you how to design a suitable and sufficient PTW system.

How the overuse of the permit to work system as a risk control measure can cause accidents and the importance of using simpler risk control measures for tasks, which do not involve a risk of serious personal injury or death.

How inadequate training and a lack of experience on the part of Designers, Issuers, Receivers and workers can lead to permit system failures.

How a lack of time and resources can contribute to PTW system failures and lead to accidents.

How inadequate checking of the work permit conditions on the part of the issuer and receiver before signing off the PTW can leads to accidents.

How a lack of hand-over of a PTW activity after time limits have elapsed and at shifts change can lead to accidents.

How inadequate or a lack of monitoring and supervision of the permit to work system can lead to the system degrading and cause failures.

How production pressures can create a poor safety culture, which leads to permit to work failures.

How using a permit to work without completing risk assessments, safe systems of work and job hazard analysis can lead to accidents.

How blatant rule violation on the part of workers can lead to accidents.

How simple human errors, such as slips, lapses and mistakes at all stages of a permitted task can lead to accidents.
Course Aim
To ensure that delegates understand a simple but effective permit to work system and how it should implemented and operated in the workplace
Who Should Attend
Anyone who has to manage, implement or use Permit to Work systems. Typically Line Managers, Maintenance Managers and Engineers, Supervisors, Safety Advisors and those selected to become new Permit Issuing Authorities (those that issue and monitor the permit to work).
Objectives
At the end of the course, delegates will be able to understand the reasons for a permit to work system and how to use and implement a simple permit to work system provided as part of the training course.
Content of Course
| | |
| --- | --- |
| Part 1 | Background to permit to work systems. |
| Part 2 | Case Study - the Piper Alpha disaster (documented and catastrophic permit to work failure). |
| Part 3 | The role of human error in accidents. |
| Part 4 | Key definitions used in permit to work systems. |
| Part 5 | When to use a Permit to Work. |
| Part 6 | Authorisation and issue of a Permit to Work. |
| Part 7 | A step by step run through a typical permit to work system. |
| Part 8 | The permit issuer - duties and responsibilities. |
| Part 9 | The permit receiver - duties and responsibilities. |
| Part 10 | Record keeping. |
| Part 11 | Essential requirements of the GWP procedure. |
| Part 12 | Review and discussion. |
Course Duration
The course is delivered over 1 Day if a practical assessment in the workplace is required the course can be extended to cater for this.
Course Assessment
The course is assessed by a 20 multiple-choice questions covering the course content. A certificate is awarded on completion of the course.
Course Tutor
This course will be delivered by Phil Douglas a fully qualified Chartered Safety and Health Practitioner with 25 years practical experience in industry designing, implementing and auditing permit to work systems.
Phil has trained ALL Permit to Work Issuers at British Sugar plc since 2007, and continues to provide this training to many other organisations worldwide.

Phil is considered to be an expert on permit to work systems; including their design, implementation and operation.

Permit to work systems are so critical to workplace safety, they need to be taught by experts who understand the systems and the common pitfalls which can occur in their operation and lead to workplace fatalities.
Additional Information
If you don't currently have a Permit to Work process/policy/procedure at your workplace, you can simply adopt our Permit to Work policy and associated templates provided in handout form (MS Word and Excel format) provided as part of the training.
This course covers the UK Health and Safety Executive (HSE) Guidance note HS (G) 250 - Guidance on permit-to-work systems.

This book describes good practice in the use of permit-to-work systems, and will help operators using these systems to ensure risks have been reduced to a level as low as reasonably practicable.

It is vitally important that HSE guidance is followed, as in the event of a workplace fatality and a subsequent prosecution under the Corporate Manslaughter and Corporate Homicide Act 2007. The Judge and Jury in identifying serious management failures resulting in a gross breach of a duty of care, would be duty bound to consider any applicable HSE guidance and if it had been followed.

Back to courses